Travel and Transportation
Plan your trip with complimentary services and special offers.
Map Overview
Parking
Taxis
Ride Sharing
Trains
The Jacob Javits Center
429 11th Avenue, New York, NY 1000. Part of the new Hudson Yards District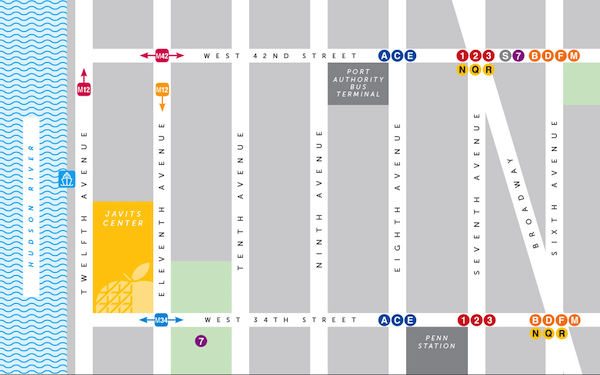 Parking in NYC
If you are coming by car, van or truck virtually all roads lead to the Javits Center.
Plus, there's plenty of off-site parking within walking distance of the iconic facility.
We suggest using websites like Park Whizz or Spot Hero where you can conveniently reserve a space ahead of time.
Taxis
NYC taxis can be hailed throughout Manhattan by holding your arm in the air on the street corner.
Available taxis have the center light atop their roof on.
Lights off mean the taxi is occupied. Taxis also have an 'off duty' light atop the car.
CURB
Curb is the #1 taxi app that connects you to fast, convenient and safe rides with in New York City. Download Curb for iPhone or Android to easily request and pay for rides with the tap of a button.
Download Curb »
ARRO
Hail any taxi with the tap of a button, or pay for taxis hailed the old-fashioned way, no cash or cards necessary!
Download Arro »
Ride Sharing
UBER
Uber is a ridesharing app for fast, reliable rides in minutes – day or night. There's no need to park or wait for a taxi or bus.
With Uber, you just tap to request a ride, and it's easy to pay with credit card or cash via the UBER app.
Download Uber »
LYFT
Use Lyft for reliable, affordable rides in and around New York City. The Lyft app matches you with local drivers in just a few taps.
Request, ride, then simply pay in the app.
Download Lyft »
VIA
Via is an on-demand transit system in NYC offering express and private ride options
Download Via »
Trains
Within New York City, public transportation is always a quick and affordable way to go.
The new 7 Subway line extension across the street makes the trip even more convenient to the Jacob Javits Center.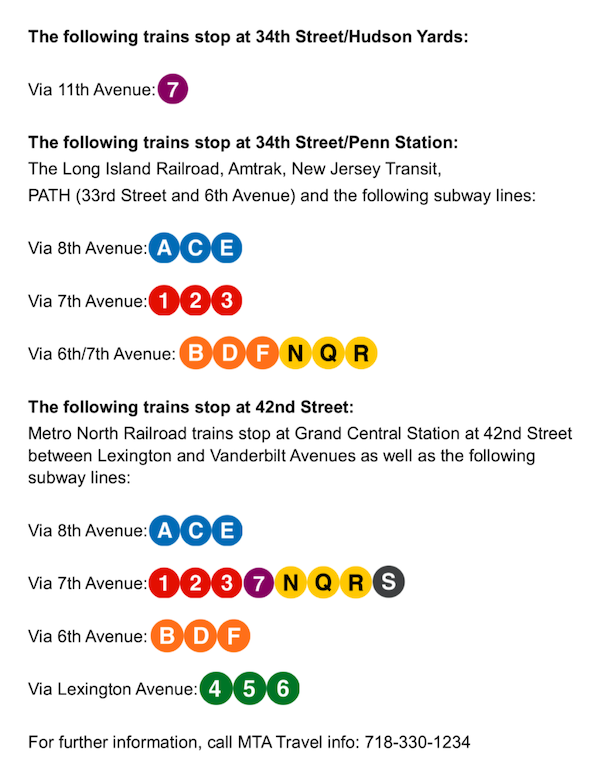 Southwest Airlines
Visit swabiz.com and enter 99008556 in the Company ID Number box to activate your discount on select flights. Select "Continue" to start booking your trip.

Discount: 5% pending fare class purchased


United Airlines
Discount / Promotion code: ZMAX587903

To book a flight with your promotion code, access United and enter your promotion code in the Promotions and Certificates box.

Discount is 2-10% pending fare class purchased
You may call United Meetings Reservations Desk at (800) 426-1122. Booking fee is waived for Meeting Reservations
Hertz
Visit www.hertz.com and enter 2188961 under Discount/CDP/Club Code in the Discount Code box to receive a 20% discount on your car rental.
*WEBSITE BOOKING DISCLAIMER
The hotels named on this website are provided for your convenience only. Informa Markets, a trading division of Informa PLC or any of its affiliates (collectively, " Informa Markets") make absolutely no representations or warranties as to the actual condition or quality of the hotel's guestrooms accommodations, facilities or amenities, or a hotel's guestroom/suite availability at the time a reservation is requested or made. Use of this website or any link provided above to make your guestroom reservations or your stay at any of these hotels shall be without any liability whatsoever to Informa Markets. Rates offered by each hotel are subject to change without prior notice. Individuals booking accommodations through this website or with any hotel listed will be responsible for his or her own room, tax and incidental charges in accordance with such hotel's policies. Please contact the hotel directly for additional information.